Hourly wage versus hourly rate
Source: https://www.magicnails.nl/blogs/magic-nails-blog/uurprijs-vs-uurloon/?fbclid=IwAR1KHZ7k_Vt_pA8w46k8poNGLHQ4aamdZg-oCmqFd4NcyCpHXHRrsC8-F4Y
As an employee, it seems as if self-employed people who charge 50 euros per hour are expensive. Logical? Yes. When compared to hourly wages on a payslip. Fair? New. Read here what the difference is between hourly wage and hourly rate and put an end to this prejudice for good.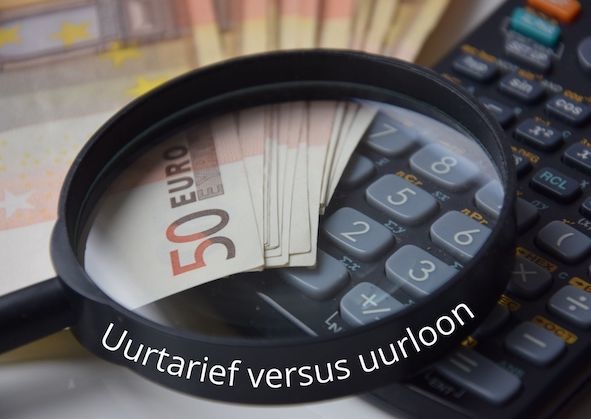 HOURLY WAGE
What is that anyway? One says 'the amount that you get paid into your account as an employee', the other says 'no, that is net wage, hourly wage is what you earn gross per hour'.
They're both right, of course, it just depends on how you look at it. It's salary anyway.
Net is the salary that is actually deposited by the employer into the employee's account.
Gross is the net salary plus social security contributions and taxes. The employer helps the employee by paying it to the tax authorities in advance, so that he does not have to pay it himself every year in one fell swoop.
Every employee in the Netherlands is entitled to a minimum wage.
| | | |
| --- | --- | --- |
|   | Payroll | Independent |
| Fixed amount per hour | ✅ | ❌ |
| 8% holiday allowance | ✅ | ❌ |
| Social insurances | ✅ | ❌ |
| Taxes | ✅ | ❌ |
| Paid days off | ✅ | ❌ |
| Paid vacation | ✅ | ❌ |
| Travel allowance | ✅ | ❌ |
| Pension accrual | ✅ | ❌ |
| Continued payment in case of illness | ✅ | ❌ |
| Sometimes also: phone, car, laptop etc. of the boss |   |   |
| Training in time and at the expense of the boss | ✅ | ❌ |
| Work materials to be able to carry out the work | ✅ | ❌ |
ALWAYS INCOME
You will receive this amount per hour in any case. If you have a contract of 20 or 40 hours, those 20 or 40 hours are actually paid to you every month. You just have that money and all the securities above. Well just? Is that really that simple? Think about it...
Whether busy or quiet
Whether you clean up or polish during working hours or are productive
Whether you are actually working with customers or not
When you take pictures for your boss or post something on Facebook
On legal holidays
When you are sick or taking leave
On vacation or course
During special leave for funeral or wedding
There's a lot more to mention, but I think this pretty much sums up what I mean. In fact, when you work a little longer, you even get paid extra and sometimes even more per hour (think of shifts or weekends). This means that you actually cost much more than what you see on your payslip.
HOURLY RATE
The amount that a self-employed person asks for the performance of certain activities.
The differences between rates of self-employed persons and salaries can be very large. However, that does not mean that self-employed people earn much more than salaried employees.
All of the above must be a self-employed person paying this rate. There is no one who pays him when he is sick, unless he takes out very expensive insurance for this, so he has to reserve that money. He must take care of all these things himself.
UNPAID HOURS
There are professions in which all hours are billable. This means that the time for each hour worked is paid.
If we now look specifically at a nail technician, then it is a bit more complicated. After all, she only receives an amount when she has treated a customer. When she does good work and plans well, she is partly in control.
But what about the hours that are canceled or in which she has to do other work-related things? Think of:
Following a training program
Keeping records
Visit wholesalers and trade fairs
Customers who don't show up at the last minute
The time the salon is cleaned
Practice on techniques
Create nail art samples
Communicate on social media to be found
Update website
And here too there is much more to mention what an independent time costs. Time that you don't realize at first, but that have to be paid for somehow. From what? The hourly rate.
When you realize this you understand where the advice comes from that a self-employed person should charge about 1 euro per minute. Despite this advice, many nail technicians work well below this amount.
Earlier I wrote a blog about treatment prices . For those who missed this might be interesting to read?
It is about a price of 25 euros and what remains at the bottom of the line. Do you know that this is even prohibited by law?
LEGAL RATE
From 2021, it will be legally regulated that a self-employed person will earn at least 16 euros per hour.
To earn. So don't ask!
That means 16 euros per hour left after deduction of the direct costs incurred.
This rate applies to all self-employed persons, both for people with business and private customers.
WORKING ARMS
It is of course not for nothing that this has become legal. The government does this to prevent the creation of the working poor. If you work full time, you should be able to live on that income.
Many self-employed people live below the subsistence level and cannot save for illness or disability. Not to mention some luxury.
If you are hearing this for the first time and want to know more about it, you can do so here, on the site of the national government .
IDEALS
When you see this list you would almost be crazy to start working for yourself, wouldn't you?
Fortunately, most self-employed people have been able to turn their hobby into their profession, they love what they do, they work with passion and they don't mind those extra hours at all.
What I hope is that next time - if you are shocked by a tariff - you realize what this person has to do about this and respect this.